We believe music is a glorious gift from God and a cornerstone of our faith journey. Our music ministry has two main purposes: to provide music which supports the scriptural and seasonal themes of our worship services, deepening our spiritual experiences together; and to provide opportunities for people to offer their talents to glorify God and inspire others through music.
The music program at Glenview Community Church has had a longstanding tradition of excellence in both musical presentation and spiritual engagement; in this way, music at GCC embodies the very heart of our worship experience.
Chancel Choir
The Chancel Choir has been led over the decades by a host of excellent and dedicated directors including Norman Gulbrandsen, Ted Klinka, Bill Schnell, Lucy Ding, Phyllis Scott, Tom Macfadden, Andrew Lewis, Stephen Blackwelder, and most recently Guillermo Muñoz Küster. In addition to leading worship services, the choir has traditionally presented seasonal performances of choral masterworks with orchestra, special Advent and Lenten services, multi-choir Hymn Festivals and more venturesome repertoire from the Jewish liturgy, jazz and blues. The Chancel Choir has traveled to participate in ICMF, ACDA and other musical conventions and festivals, both in the United States and in Europe.
Children's Choir & Singing Stones
GCC Children's Choir directors have included Phyllis Scott, Gary Wendt, Debby Shellard, and Lydia Lane Stout and they have shared the tradition of musical education and excellence as it helps to shape the minds and spirits of our youth. Longtime Glenview residents will remember the national recognition that came to the church's youth choir ("The Singing Stones") under the inspiring direction of Ron and Sally Clonts. Throughout the decade of the 1970s, this 100-voice high school choir regularly led worship services and toured throughout the United States, Great Britain and Scandinavia. Click here to read more about the Singing Stones.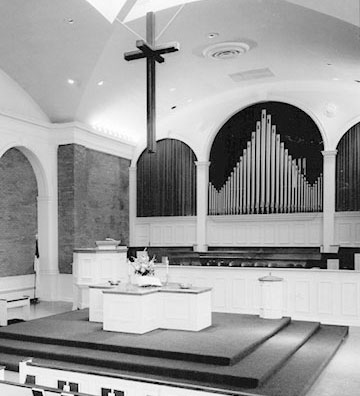 Instrumental Music
Instrumental music at GCC is represented by the Joyful Ringers, the Pilgrim Wind Quartet and other soloists and chamber groups that enhance our worship services throughout the year. Of course, our most visible instrument is the 69 rank, 3,865 pipe sanctuary organ built by John Paul Buzard Organ Builders, installed in 1999. This grand and heroic pipe organ is remarkably flexible and well-suited to the busy and varied musical activities of the greater church family. Our organists have included Margaret Budd, Natalie Klandermann, Norreen Klemens, Kevin McKelvie, Bill Schnell, Marcia Van Oyen and Gary Wendt.
The Nativity
The Nativity at Glenview Community Church is a celebration of the story of the birth of Jesus and a sharing, through music and movement, pageantry and song, of the message of Christmas. It is a worship service that heralds the Advent season. GCC has presented this gift to the church family and the community each year since 1951 (with the exceptions of 1959 and 1960 when the sanctuary was under renovation). Click here to read more about The Nativity at GCC.